Getting closer to the end, Train4Sustain organises its final event in Brussels on the 26th of October.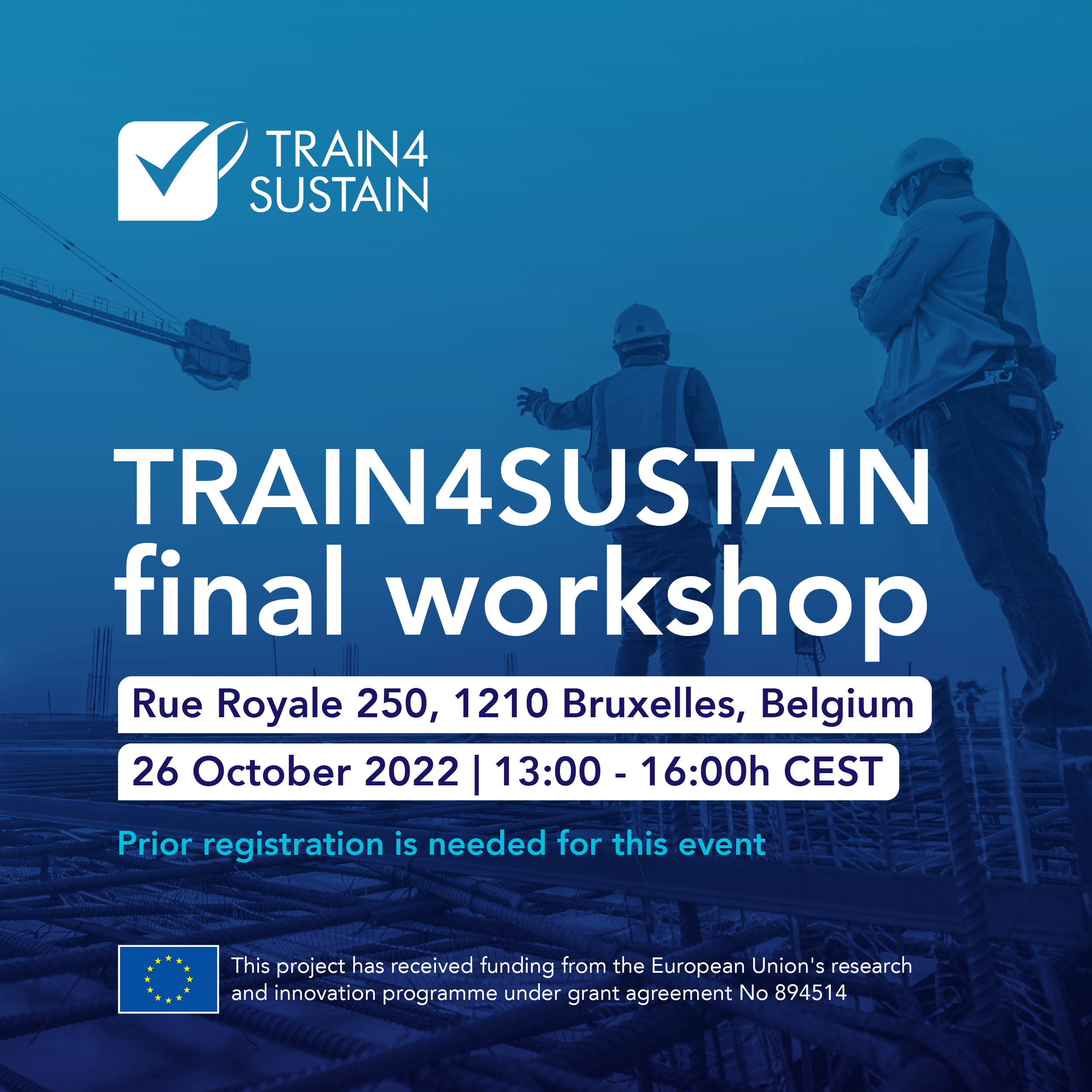 Therefore, we warmly invite the experts in the field to attend our project's final workshop and get a comprehensive presentation on Train4Sustain's final results and services.
What is the agenda?
1. The CEN Workshop Agreement on TRAIN4SUSTAIN – iiSBE (20 min + 5 min Q&A)
An introduction to the final version of the CEN Workshop Agreement and the opportunities for digitisation of standards
2. The online European Skills Registry and Passport – GEO (20 min + 5 min Q&A)
Showcasing the platform features, the user workflows and their applicability to the targeted end-users
3. TRAIN4SUSTAIN pilot Green Public Procurement – GENCAT (20 min + 5 min Q&A)
Demonstration of a real construction project employing the project tools and methodology to support Green Public Procurements
4. How harmonized Unit of Learning Outcomes enable personal learning pathways and automated mutual recognition – ISSO (20 min + 5 min Q&A)
Make use of of Learning Outcomes to share a vision on further use in personalized learning pathways and automated mutual recognition of skills.
14.40 – 15.00 Break – invited coffee
From 15.00 hours - Open discussion point No.1
Harmonization of Unit of Learning Outcomes and personal recognition
Open discussion point No.2
Development opportunities for market application and demand for skilled professionals
16.00 hours - Closure and snacks
Who is the event for?
Experts from the construction sector
Place
Rue Royale 250, 1210 Bruxelles, Belgium
Date
October 26, 13:00-16:00h CET
Despite the fact that we would like to welcome all the interested parties in this event, we inform you that this is a closed workshop where prior registration is needed.
In order to express your interest to participate and complete your registration, you can send an email at peter.gyuris@geonardo.com